While locals often joke that Vancouver is the "no fun city," a new study finds that it has Canada's best spots to enjoy a night out.
Vervesearch analyzed 6,479 Tripadvisor reviews of nightlife attractions in the largest and most-visited cities in Canada — 2,048 reviews from city locals and 4,431 reviews from tourists.
Each city and neighbourhood in the company's analysis is ranked by the "percentage of four-and five-star reviews of their nightlife attractions, as posted by locals and tourists."
The study included bars, nightclubs, theatres, music venues, casinos, comedy clubs, karaoke, sports arenas, cabarets, and street markets.
According to tourists, Vancouver has the best nightclubs as well as the top casinos in the country. Another B.C. city, Victoria, ranked for having the country's top bars and pubs.

Similar to tourists, Vancouverites gave their city's nightclubs the highest Tripadvisor rankings in the country, with 80.8 per cent of the ratings averaging four or five-stars.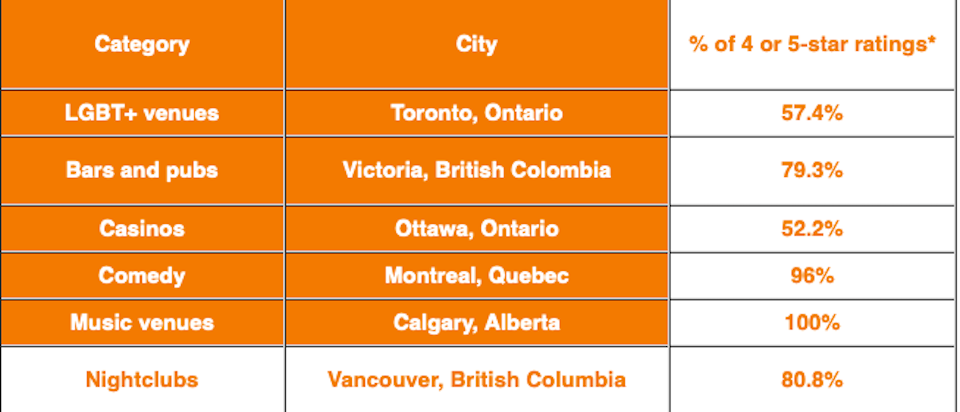 Vancouver nightlife and beyond
When it comes to the overall nightlife experience, Victoria beat out Vancouver, according to tourists. Vancouver wasn't far behind B.C.'s capital city, however. On Tripadvisor, 79.3 per cent of ratings for Victoria were four or five-star ratings, compared to 79.1 per cent of Vancouver's.

Vancouverites felt even less keen about the overall nightlife experience in their city. the best nightlife in Canada is Quebec City with 82.9% of locals leaving 4 and 5-star reviews.

When it comes to a night out in a Canadian neighbourhood, however, Vancouver also topped the list. According to locals, Fairview in Vancouver is the best neighbourhood in the country for nights out, with nine out of 10 ratings left by locals of the nightlife attractions in the neighbourhood of either four or five stars.