From a 63-foot Northwest Coast dugout canoe and a Nuu-chah-nulth ceremonial wolf curtain to a raven Nuxalk house entrance pole and a Kwakwaka'wakw transformation mask with a sculpin and sea-raven, thousands of incredible objects are on display in the recently "reimagined" American Museum of Natural History's oldest gallery, the Northwest Coast Hall.
The question for Haa'yuups — a Huupa'chesat-ḥ First Nation scholar of the Nuu-chah-nulth peoples in the Alberni Valley — is how many of these items belong behind glass, on the Upper West Side of Manhattan, thousands of kilometres from the people who made them?
Some might be surprised that Haa'yuups, a longtime scholar, museum consultant and co-curator of the recently completed five-year, $19-million US project to renovate and restore hall, is pondering the ethics of its existence. But they are questions, he said, that museums must be willing to ask. That includes the Royal B.C. Museum in Victoria as it undergoes a recently announced $789-million rebuild and "decolonizes" its exhibits.
Museums "are supposed to protect all that's precious to non-native, white citizens of the western world," he said. "When you go through most museums, what you come out with is a feeling of, 'Wow aren't the people who did this wonderful? They went forth and subjugated people and stole things from their graves,'
"That's the truth. It's an ugly truth, a dirty truth. And it's not one people want to own up to and be responsible for. But it's something I want to see dealt with, and I want to help with the conversation that's got to be held."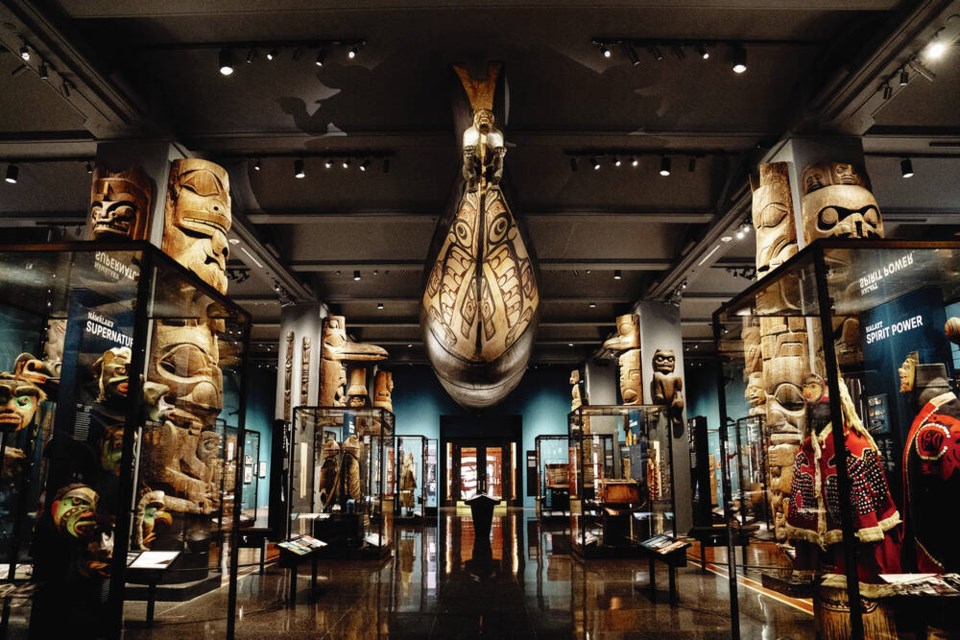 The 10,200-square-foot Northwest Coast Hall opened in 1899 as the museum's "first permanent exhibit dedicated to the interpretation of cultures." Nearly 120 years later, the museum launched a revitalization project with Peter Whiteley, curator of North American ethnology, at the helm.
Haa'yuups and Whiteley worked in collaboration with consulting curators from Coast Salish, Gitxsan, Haida, Haíłzaqv, Kwakwaka'wakw, Nuu-chah-nulth, Nuxalk, Tlingit, and Tsimshian communities to shape a new vision of the exhibit — a vision that included more media, contemporary art and new interpretations.
Whiteley said museum personnel made frequent trips to communities in the Pacific Northwest, and collaborators would "advise and frequently take the lead."
"They each came in individual visits to the museum to look at their collections and develop themes in conversation with the curatorial group," he said. "And that has been the principle process involved."
He added: "The presence of Indigenous perspectives is, I think, the benchmark that makes this a full renovation rather than a restoration, per se."
The hall reopened to public viewing on May 13.
Divided into a series of alcoves, more than 1,000 objects display the creativity, ingenuity and living culture of Nuu-chah-nulth, Coast Salish, Haida, Nisga'a, and Tlingit communities, with materials placed and illuminated thoughtfully alongside interpretive plaques and multimedia displays in both English and Indigenous languages.
In a press release, the American Natural History Museum describes an exhibit called Our Voices, saying it "highlights the key perspectives" of Haa'yuups and consulting curators on "the past, present and future of life on the Northwest Coast, and issues including environmental conservation and racism."
"The museum's historic first gallery and first cultural hall, the Northwest Coast Hall has been fully re-imagined, painstakingly conserved, and gloriously reinvigorated," said a statement from Ellen V. Futter, the museum's president. "We look forward to sharing its beauty and poignancy with our visitors."
Haa'yuups is proud of the work that he and the team put into the revitalization. In a statement released by the museum, he says that he hopes his grandchildren will one day view the gallery.
"I want them to be proud of where they're from, proud of who they are, proud of the history of their family and the achievements of our people, the intelligence of people, the knowledge of people, the science of people in my community," he said. "So I want the hall to reflect that reality, that there's a different way to think about the world around you."
But Haa'yuups also feels that his role was more symbolic than meaningful. He said he was consulted primarily on language and labels.
"Mostly I would say I played a very minor role in the re-doing. Others might feel differently but that's my feeling," he said. "I didn't have any say in 90 per cent of what was put on display. As a curator, I couldn't help but wonder who is making these choices."
Questions of repatriation
With theft and colonization playing a foundational role in Indigenous museum collections across North America, repatriation has become central in discussions about the role of contemporary museums.
"Does it make sense to have a bunch of people who have nothing to do with objects, to have them spend their lives managing them?" Haa'yuups said in an interview with the Associated Press. "Or does it make sense to send those treasures back to the communities where they come from?"
Though 1,000 items are on display in the Northwest Coast Hall, there are more than 10,000 items total in the collection. The American Natural History Museum recently announced it would be conducting a "limited repatriation of cultural objects." Details of that project are still being ironed out, according to Whiteley.
"That's been an ongoing discussion," he said, adding that the museum is governed by the U.S. Native American Graves Protection and Repatriation Act, which requires museums to provide information about cultural Native American items and return them when presented with a valid claim.
Whiteley said under that statute, the museum has already repatriated some materials to communities in Alaska and Washington state.
"But international repatriation is somewhat different," he said. "This new policy, which emerges from all these conversations, is going to establish a new patent, but the details haven't been worked out yet."
Haa'yuups said questions about repatriation have been met with polite avoidance.
"I maintained from the beginning of this exhibition, that everything that those big institutions have still belongs to us," he said. "They have possession of it, but we own it. They'll never know the deeper meanings, the symbolism, the things that those [objects] really mean, unless they come back into our hands."
"I've been interested in helping with that conversation, and participating in it, knowing full well how conservative most museums are. That doesn't mean we should shy from the work that's got to be done in our own times to carry that conversation forward."
In B.C., more than two dozen museums across the province signed the B.C. Museums Association's 2020 Repatriation Call to Action.
"Museums, from their collections, to exhibits, to programs, have long been tools used to reinforce the status quo, helping decide who is included and who is excluded from the story of Canada," the association said in a statement.
"If museums want to begin to repair the harms they have caused, our sector must embrace a comprehensive approach to repatriating (in other words, 'returning') the ancestors and belongings held captive for generations. These journeys home are truly profound moments to celebrate and offer an opportunity to create a whole new context in which to tell stories in, and of, our museums."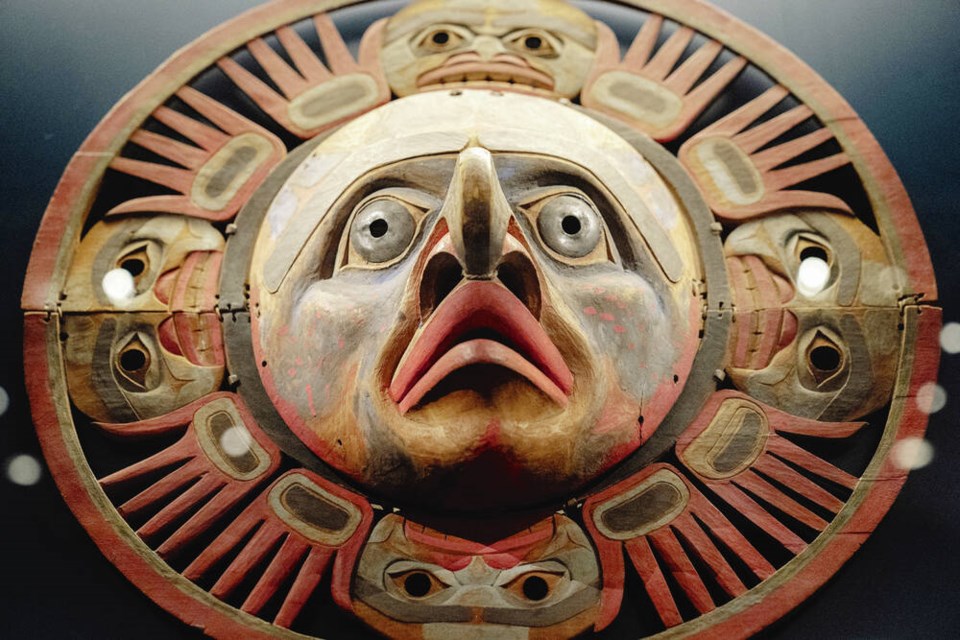 Rethinking the Royal B.C. Museum
On May 13, the B.C. government announced plans to tear down the current Royal B.C. Museum and build a $789-million complex to replace it, with the current facility closing to the public Sept. 6 and the new museum opening in 2030.
The news was met with mixed reactions, including questions about how the museum will approach the ongoing task of repatriation and its Indigenous galleries.
The redevelopment project was framed largely as a reconciliation project when it was announced, though there are also concerns about seismic stability and asbestos in the building.
The institution has faced accusations of racism and discrimination, as well as calls to return some items — including a totem pole on its third floor — to First Nations. Last year, the museum announced that some exhibits would be dismantled to help "decolonize" the galleries.
"I think museums need to be shaken," Haa'yuups said. "And if I were to participate, I would definitely be shaking up the place.
"I think the provincial museum would do well to ensure the entire building tells the story of this province."
Following the premier's museum announcement, Green Party MLA Adam Olsen, who is a member of the Tsartlip First Nation, took to Twitter to express his frustration over what he called an "$800-million new shrine to house systemic rot."
"The [government] is focused on building a new museum when it should be investing in repatriating ancestral remains and items of cultural significance," wrote Olsen, who represents Saanich North and the Islands. "Many of those items in their collections are relevant and important today."
Among other commitments, the museum's Indigenous Collections and Repatriation Policy says it is prioritizing the return of ancestral remains and burial belongings from its collection and committed to ensuring "Indigenous peoples are involved in the interpretation of their cultures and histories."
The policy also notes the use of an Indigenous advisory and advocacy committee, which advises the museum on governance, operations, Indigenous engagement and "respectful disposition of ancestral remains with no known cultural affiliation."
When he looks to the future of museum exhibits as public spaces, Haa'yuups hopes for a deliberate refocus from what is entertaining toward "the true story of this province and its foundation in racism."
"I believe that story needs to be told," he said. "I don't have a lot of people in my camp, I'm well aware of that. But I think we need to tell that story, grow up and be honest about where we come from."
Museums will have to take steps beyond consulting Indigenous people, he said.
"Let people tell their own story. Get out of the way. Stop pretending you have expertise you don't. That might sound threatening, but I also think it's an incredible relief to stop pretending you know how to take care of our treasures.
"Get out of the way and prepare to listen."
ngrossman@timescolonist.com