Almost 40 per cent of the area burned by wildfires in Western Canada and the United States over the last four decades were caused by emissions from the world's top fossil fuel producers and cement manufacturers, new research has found.
The study, published this week in the journal Environmental Research Letters, found that by raising global temperatures, the burning of fossil fuels has amplified the vapour pressure deficit across Western North America — essentially a measure of how "thirsty" the atmosphere is — and made the air more effective at drying out plants and other vegetation, said co-author Carly Phillips.
"Roughly half of the increase in fire prone conditions are attributable to emissions from these companies since 1901, and that nearly 40 per cent of total burned area by forest fires since 1986 is attributable to emissions from these companies," said Phillips, a research scientist at the Union of Concerned Scientists.
"And so to put that in perspective, that's roughly 20 million acres, or an area the size of Guatemala."
To measure the influence major carbon emitters have had on wildfires, the scientists ran two models: one included all the emissions humans have released since 1901; the other model removed the impacts of emissions from the top 88 producers — including companies like Saudi Aramco, Chevron and ExxonMobil. Other Canadian companies on that list include Canadian Natural Resources, Husky, EnCana, Suncor and Talisman.
When the scientists looked at the difference, they were able to gauge the impact major fossil fuel companies have had on a rise in fire prone conditions and area burned across a region stretching from the U.S.-Mexican border to southern British Columbia and Alberta.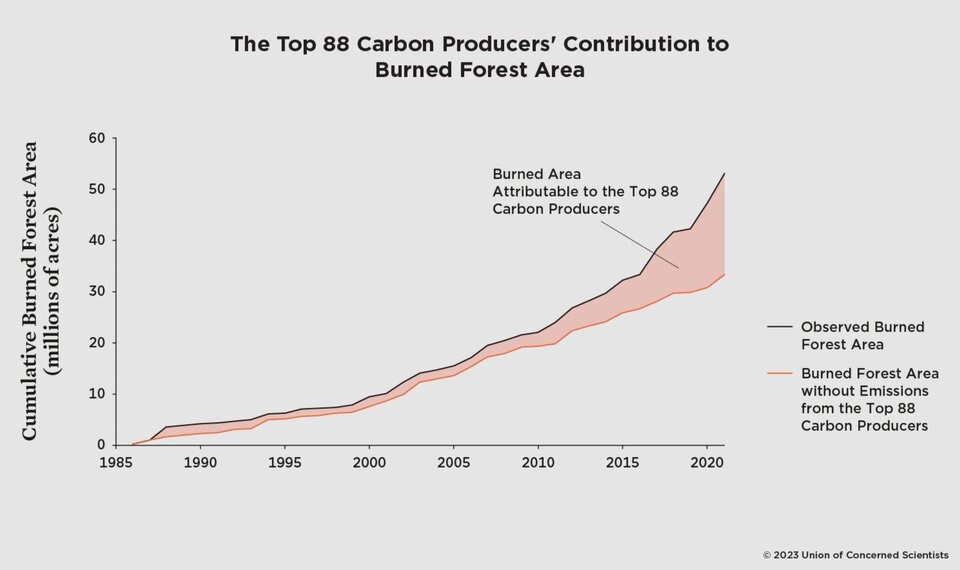 The study builds on past research into the world's top 88 fossil fuel producers and their impact on average global temperature, sea level rise and ocean acidification.
Phillips said the research tears down false narratives that fossil fuel companies have shared in the past, and could be used in climate litigation cases seeking reparations, either directly for wildfire damage, or from the health impacts of wildfire smoke.
"Many of these companies, including Exxon and Shell, have known for decades the harms of using their products, but instead of informing the public of that, they orchestrated a disinformation campaign to cast doubt on climate science and delay climate action," she said.
"And I think that's a really important part of the story, when we're thinking about the connection between these companies, their emissions and wildfires."
More localized attribution needed to hold companies accountable
The study did not break down how emissions impact wildfire at the city, state or provincial scale, something Michael Mehta, a professor of geography and environmental science at Thompson Rivers University, says would likely be necessary should governments want to use it in court cases against fossil fuel companies.
Another place more work needs to be done, he said, was figuring out how human-caused ignitions, land-use changes and destructive forestry practices have played a role in making wildfires worse.
"They often replant things that are economically valuable and use Round-Up and other chemicals to clear vegetation in the under-story," Mehta said, pointing to the impacts logging has had on water quality and drying out soil.
"It's not necessarily just fossil fuel companies, it's the industrial system that acts with impunity."
Until such changes are made, Mehta says the people of British Columbia are going to face some hard personal choices throughout an ever-growing fire season.
Cancel outdoor events, ban campfires as emergency stop-gap, says expert
Over the last decade, the rise in wildfire activity has changed the way Mehta and his family plan for everything from evacuation to holidays. He has also been a vocal critic of communities across B.C. failing to take the impacts of wildfire seriously.
In 2017, he called on organizers to reschedule a local Rib Fest in Kamloops, B.C., due to the dangerously smoky conditions. He said he faced a number of "nasty phone calls and letter."
"It was just unbelievable, the attack," he said. "It is very difficult to be one of the few people actually warning people about these sorts of things."
A day after air quality sensors at his home measured pollution levels that would have set off a "red alert" day in Beijing, Mehta railed against official reluctance to ban campfires across the Interior.
Describing the inaction as a "massive mistake" and "patently ridiculous" under current conditions, Mehta said B.C. residents need to prepare themselves for a cultural shift away from recreational fires.
"We know a vast amount of fires are human-caused," he said. "We're not going to change forestry practices overnight. But we could ban campfires in this province 365 days a year."
In the lead up to the long weekend, Mehta further cautioned British Columbians to remain vigilant in the face of hot, dry conditions — even if fire was a long way off.
"We're going to see this air pollution swirling around B.C. communities," he said.
"You'll never know when it's going to hit you."